Hi! I'm Hayk[hike] Zar LMT, owner at Hayk Zar Clinical Massage & Qigong Somatics based in Cranford, New Jersey. I'm a clinically trained, licensed massage therapist with almost 15 years of experience in clinical work. I specialize in Clinical, Traditional and Eastern Massage Therapies, Qigong Somatics and Rehabilitative Exercise, as well as Mindfulness Meditation and Stress Management.
Over the years I have worked with clinical patients, professional athletes, bodybuilders, dancers, doctors, high-profile clients. I have years of experience working with doctors in multi-disciplinary medical clinics, with the track record of being one of the most sought-after therapists due to my very effective and results-based treatment style.
I've spent my entire career researching and practicing massage therapy, bodywork, and somatic therapies, qigong, therapeutic meditative practices, and their effects and benefits for healthy living and as severe stress and anxiety management tools.
I have consulted business owners and executives of small and fortune 500 organizations on employee wellness engagement strategies through wellness programs. I have been part of many health and wellness events for schools, IT, medical, biotech companies, and pharmaceutical corporations. I've developed the Somatic Relaxation Technique™, Mindfulness+ Leadership Program, and the Emotional Conditioning™ system.
I work with Karen Lin, L.Ac. (NJ, NY); M.S; MD(China). And all of the Acupuncture and Traditional Chinese Medicine (TCM) services are provided by her. Karen is one of the best acupuncturists I've met. Throughout the years I've seen Karen help lot of people. Some pretty incredible cases. I highly recommend Karen.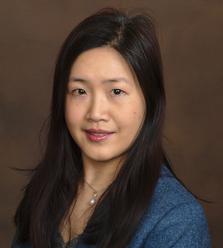 Karen Lin, L.Ac. (NJ, NY); M.S; MD(China) graduated from the Eastern School of Acupuncture in New Jersey. After excelling as a student, she subsequently became a faculty member teaching the clinical research class to third-year students. As an acupuncture practitioner, she helps people change their life style and improve their overall health. She established Harmony Acupuncture and Wellness, LLC in Cranford, New Jersey.
Our practices are unified by one basic philosophy which works as our mission in a way. To help as many people as we can and be as effective as possible.
Here's a link to Karen's Harmony Acupuncture website. You can also call at 908.272.8288.
We offer very effective CLINICAL CARE:
SOMATIC AND MANUAL TherapY TECHNIQUES

Traditional Chinese Medicine treatments

WORKPLACE Wellness Programs AND TALKS
Here are some of the conditions we treat:
Musculoskeletal Problems
Chronic Tension, Injuries (sports injuries, accident injuries), Muscle Spasms, Sciatica, Back Pain, Bursitis, Tendonitis, Stiff Neck, Headaches and Migraines, Shingles, Fibromyalgia, Tennis Elbow, Carpal Tunnel Syndrome, Frozen Shoulder, Gout, Arthritis, Neuralgia,
Neurological Disorders
Post-stroke Recovery, Bell's Palsy & Trigeminal Neuralgia, Movement Disorders (Cerebral Palsy, Polio)
Gynecological/Genitourinary Disorders
Premenstrual Syndrome(PMS), Irregular, Heavy or Painful Menstruation, Menopause (Hot Flash, Insomnia), Chronic Bladder Infection, Morning Sickness, Impotence, Infertility in Men and Women, Sexual Dysfunction
Dermatological Disorder
Eczema, Psoriasis, Neurologic Dermatitis, Alopecia, Acne
Weight Control and Hormone Imbalance
Underweight, overweight, hypothyroidism, hyperthyroidism and other hormonal imbalances.
Emotional and Psychological Disorders
Anxiety, Insomnia, Depression, Stress
Immune & Autoimmune Disorders
Chronic Fatigue, Supportive treatment for cancer patients, Supportive treatment for cancer chemotherapy patients, Allergies; Sinusitis, Nerve Deafness, Tinnitus (Ringing in the ears; Dizziness (Meniere's disease); Poor Eyesight
Addiction
Smoking Cessation; Drugs; Alcohol
If you or someone you know is suffering from these conditions and would like to find NATURAL solutionS TO resolve the symptoms, please contact us at 732.766.0897 so we can discuss how to successfully address AND MANAGE your HEALTH ISSUES.
Chronic Pain Management

Traditional Chinese Acupuncture

Traditional Chinese Herbal Remedies

Shiatsu

Qigong

Cupping

Gua Sha

Meditation
Clinical Massage Therapy

Deep Tissue Massage Therapy

Lexington Avenue SPA Massage

Somatic Therapeutic Bodywork

Somatic Self-Therapy Technique™

Active Joint Mobility Training

Severe Stress Management

Therapeutic Somatic Exercise™

Tibetan Dry Massage

LIST OF ORGANIZATIONS WHERE WE PROVIDED WORKPLACE WELLNESS PROGRAMS, THERAPEUTIC CHAIR MASSAGES AND ACUPUNCTURE SCREENINGS
Corporations
Affinity

Pfizer

Financial Resources

Ethicon

Gold's

Ingredion

Janssen Pharmaceuticals

Imclone

Allergan

Hillsborough Health Fair

Colgate-Palmolive

Arc of Hunterdon
Ingredion

Janssen Pharmaceuticals

Imclone

Allergan

Hillsborough Health Fair

Somerset County Business Partnership's Workplace Health & Wellness EXPO

Citi

Schools
Union Community Collage

Rutgers University

Hillside School, Bridgewater

Creme de la Creme, Bridgewater

The Learning Experience, Readington

Bradley Gardens School, Bridgewater

Readington Middle School, Readington

Somerville High School, Somerville

Stellar Academy, Bridgewater

Kinder Care, Branchburg, Flemington

Crim School, Bridgewater

RVCC, Branchburg

Somerville Preschool, Somerville

Eisenhower School, Bridgewater
Feel free to contact us if you have any questions regarding your conditions.
For Acupuncture and TCM: Call (908) 272-8288
For Clinical Massage: Call/Text (732) 766-0897